I have recently started using the new WordPress SEO plugin which is undoubtedly the best search engine optimisation tool for WordPress. This plugin is genius; it covers absolutely everything. Well, almost everything - the only thing it doesn't do is write compelling keyword rich content for you. That, I'm afraid, is up to you (or your SEO copywriter). Anyway, let's break down the key features of the WordPress SEO plugin to see what I'm so excited about.
[clear]
WordPress SEO edit panel
Just like All in One SEO Pack, this plugin adds a meta panel below the WYSIWYG editor. The screenshot below shows the "snippet preview", a replica of a Google search result complete with page title, meta description and URL. Below this preview are the fields for editing the 'SEO Title' and 'Meta Description' which correspond to your Google listing. Most impressive of all, the snippet preview will update as you type so you can tweak your listing right before your very eyes.
Additionally, you have character count indicators to show you exactly how much more room you have before the snippet will be truncated by Google.
Focus Keyword
You can test your results on the spot with the 'Focus Keyword' feature. Simply type the phrase for which you are trying to optimise and you'll not only see these words bolded like a real Google search result, but you'll get a breakdown of where else in your page the focus keyword is detected plus a list of related keywords. The screenshot below shows the results of using the focus keyword feature for the phrase web design.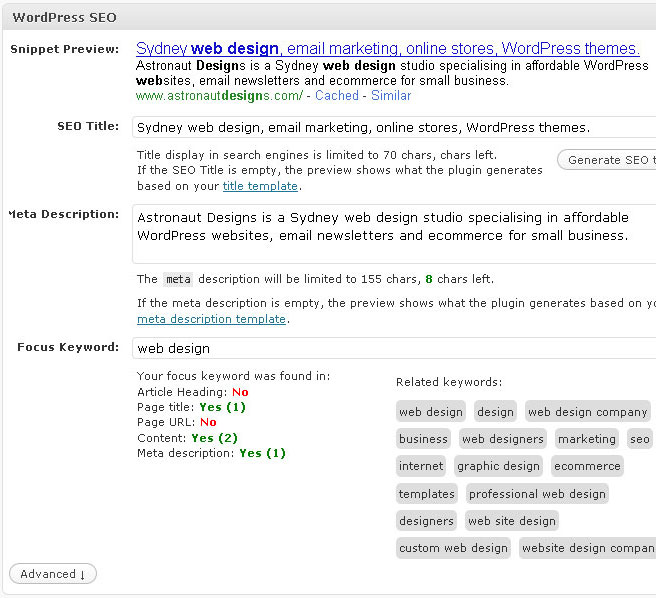 Advanced SEO features
The tweaking doesn't stop there. Click the 'Advanced' button and a handful more options will be revealed. You can mark the page or post as noindex and/or nofollow - handy for pages that you don't want the Googlebot to see. You can specify a canonical URL, which has been widely recognised as a method for preventing multiple variations of the same URL being indexed. For example, I have entered http://astronautweb.co/ as the canonical URL, which will indicate that it is the correct format of the page, even if links exist to http://astronautdesigns.com or without the trailing slash. And 301 redirect is mighty handy for old pages which have been superceded by a new page with a different URL.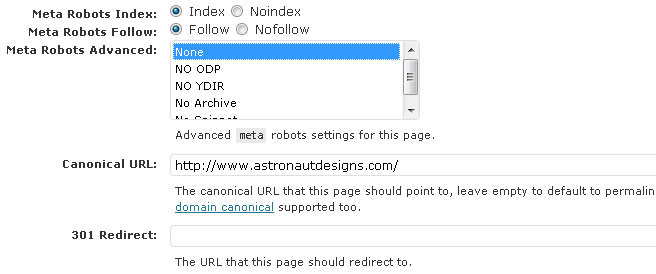 SEO title display in Pages menu
Now you can see all your SEO page titles at a glance in the pages menu, making it obvious if any pages need optimising.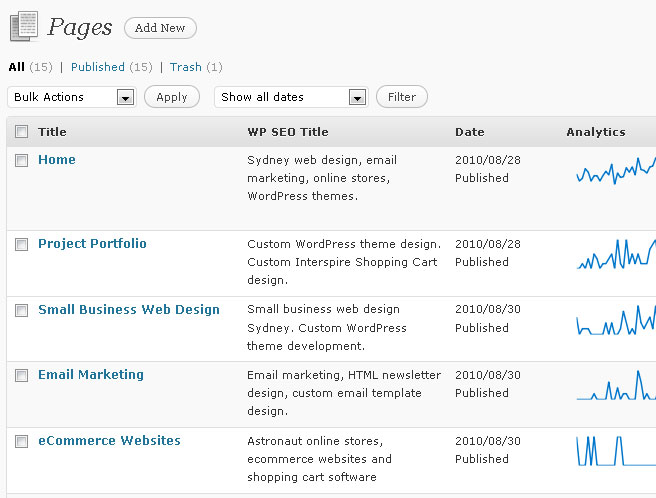 Integrated XML Sitemap
An XML sitemap is the most effective way to notify search engines of your page URLs so they have as little difficulty as possible in finding your content. The WordPress SEO plugin integrates this feature with a bunch of configuration options, as shown below. This is the result of using this feature for my XML sitemap.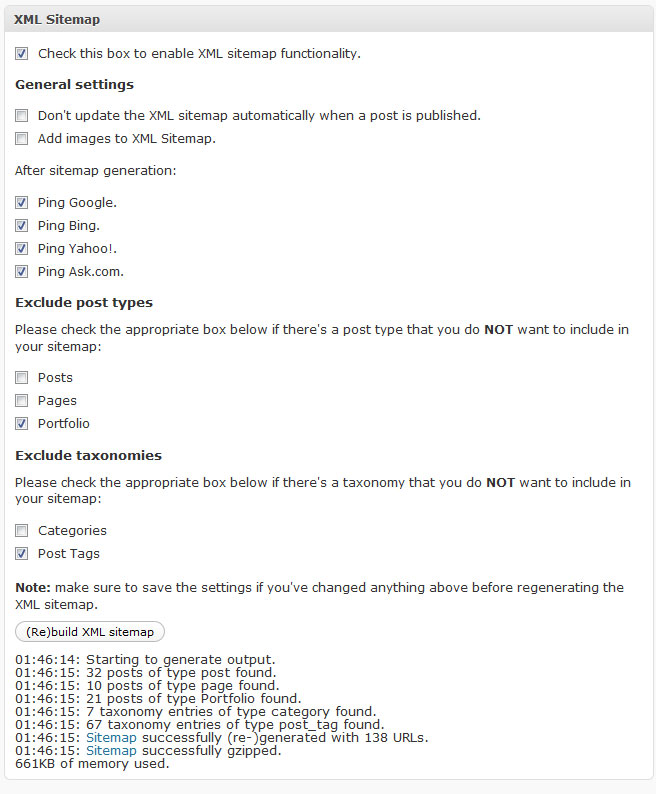 Avoid Duplicate Content with Indexation Rules
One of the pitfalls of using a powerful content management system such as WordPress are the many ways a single piece of content can be accessed. There are date archive pages, author archive pages, tag archives and other ways that the same content can be organised for the purpose of a visitor navigating your site. If you are a one man website, like me here at Astronaut Designs, then all these extraneous URL formats are just potential for search engines to detect duplicate content, which is not good for your search engine optimisation. The WordPress SEO plugin allows you to disable these features quickly and easily.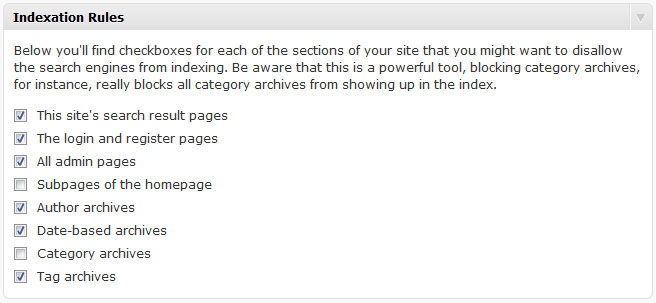 Integrated Breadcrumbs
Breadcrumbs may be good for your user navigation but they also provide key navigation for search engines, allowing for the crawler to backtrack and find the path to your juicy SEO copywriting from the main navigation. The WordPress SEO plugin provides an simple code snippet that can be easily inserted in your WordPress theme and then configured via the panel shown below.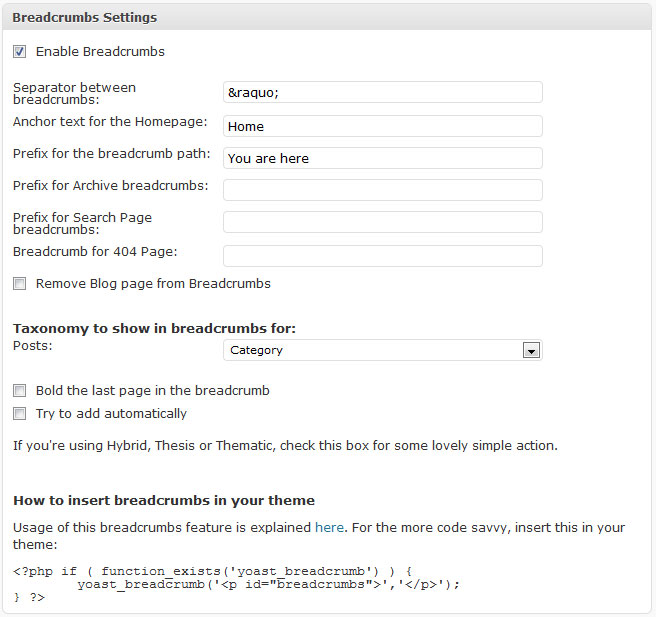 Import your setting from All in One SEO Pack ...and much more
The feature list goes on, but I'll leave it to you from here to explore the import features, the RSS options, title tags for different sections of your WordPress website.
Developed by Joost de Valk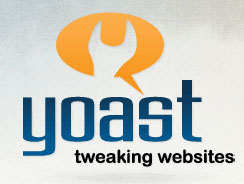 The brains behind this masterpiece is developer and SEO specialist Joost de Valk (pron 'Yoast'). Click his logo on the right to visit his website and tune into his weekly WordPress podcast. [clear]
See more related articles on the SEO fundamentals page.