Making the tracking code work with Interspire Shopping Cart 6
Chances are that you've landed here because you've got a store running Interspire Shopping Cart and you can't figure out why the ecommerce tracking in Google Analytics is not receiving any data. Before you implement the fix below, you'll need to ensure that you have:
Set up your Google Analytics tracking code in your Interspire Shopping Cart software via Settings > Analytics Settings
Enabled your Google Analytics profile for ecommerce - see below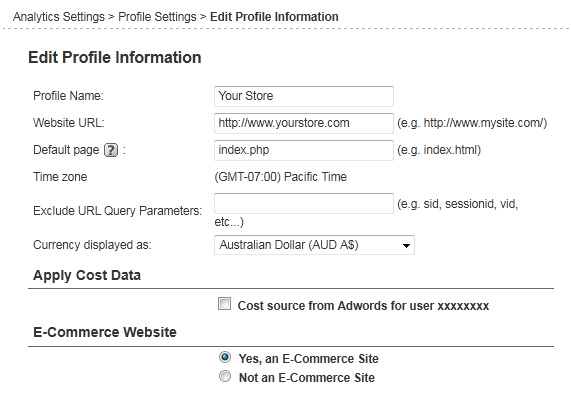 What about the Ecommerce tracking code?
Yep, you've already done all that and the Ecommerce section of your GA account is blank. If you've looked into this further like I did, you will have discovered that there is another script required by Google Analytics to send the order data to your GA account. This is detailed on the Ecommerce Tracking page of Google Code.
Yeah, you get that, but how do you get that in your Interspire source code? Well, it's already there... but its wrong.
If you place an order through your store and land on the 'Thanks for your Order' page (which is finishorder.php) and you view the source code, you'll see right at the bottom, just inside the closing </div><!--#Container--> tag, the ecommerce tracking code complete with order data. The problem is that is the old traditional tracking code, instead of the new asynchronous code.
How to fix the tracking code
Open the file module.googleanalytics.php located in /modules/analytics/googleanalytics/ and make a backup copy before changing any code.
Note: This fix is for Interspire Shopping Cart version 6.1.1 and this fix will no doubt eventually become redundant.
Near the bottom of the file you'll see a comment // Using the new version of the tracking code. This marks the beginning of the relevant code that you need to modify.
1. Find this:

$(document).ready(function() {
	if(typeof(pageTracker) != 'undefined') {
		pageTracker._addTrans(  
  
Change to this:
2. Find this:
Change to this:
3. Find this (*make sure you select all three lines - thanks to Lance & Brian's comments):

        pageTracker._trackTrans();
    }
});
Change to this:
_gaq.push(['_trackTrans']);
4. Lastly, make sure you change the closing brackets for each of steps 1 and 2 above. Find the closing parenthesis:
And add a closing square bracket inside like this:
5. Optionally, you can edit the comments after each order variable in the arrays for your own reference in the output source code. For example:
'".$order['orderid']."', // order ID
The complete corrected PHP code

$conversionCode = "
    <script type=\"text/javascript\">
    _gaq.push(['_addTrans',
                '".$order['orderid']."', // order ID
                '',
                '".number_format($this->GetTotalAmount(), 2, '.', '')."', // order total
                '".number_format($this->GetTaxCost(), 2, '.', '')."', // tax
                '".number_format($this->GetShippingCost(), 2, '.', '')."', // shipping
                '".$billingAddress['ordbillsuburb']."', // suburb
                '".$billingAddress['ordbillstate']."', // state
                '".$billingAddress['ordbillcountry']."' // country
            ]);
";
while($product = $GLOBALS['ISC_CLASS_DB']->Fetch($productResult)) {
    $productId = $product['ordprodid'];
    if($product['ordprodvariationid'] > 0) {
        $productId .= '-'.$product['ordprodvariationid'];
    }
    $prodCode = $product['ordprodsku'];
    if (empty($prodCode)) {
        $prodCode = $product['ordprodid'];
    }

    $conversionCode .= "
        _gaq.push(['_addItem',
            '".$order['orderid']."', // order ID
            '".addslashes($prodCode)."', // SKU
            '".addslashes($product['ordprodname'])."', // product name
            '',
            '".number_format($product['price_inc_tax'], 2, '.', '')."', // product price
            '".$product['ordprodqty']."' // order quantity
        ]);
    ";
}
$conversionCode .= "
        _gaq.push(['_trackTrans']);
</script>";

The final source code
Now the source code for your finishorder.php page should display the tracking code near the bottom of the page similar to this:

<!-- Start conversion code for analytics_googleanalytics -->   
<script type="text/javascript">
	_gaq.push(['_addTrans',
		'34', // order ID
		'',
		'19.99', // order total
		'1.81', // tax
		'3.00', // shipping
		'Sydney', // city or sububrb
		'New South Wales', // state or provence
		'Australia' // country
	]);

    _gaq.push(['_addItem',
        '34', // order ID
        '2731058', // SKU
        'Product Name', // product name
        '',
        '19.99', // product price
        '1' // order quantity
    ]);

    _gaq.push(['_trackTrans']);
</script>
<!-- End conversion code for analytics_googleanalytics -->