SEO is a healthy mix of common sense, best practices and knowing how the system works. Ultimately, keywords are what stand between your website and your customers. Google and the other search engines simply take the keywords that your customers punch into the search box and try to return the most relevant results. Here are 7 steps to finding the right keywords:
1. Brainstorming
Who is your target market? Think about the geographic and demographic elements to your business and what words are associated with those factors, eg: suburb or region names, etc.
Who are your BEST customers? What words can be attributed to them in relation to your products or services?
Ask others what keywords they would use to find your site
Check out your competitors. What keywords did you use to find them? What words do they use in their headings? How did it appear in the Google results?
2. Categorise
Make a list of all your keywords and categorise them by themes based on product or service type, eg: residential vs commercial.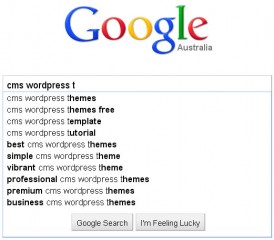 3. Research
Note: you may need to do this before step 2
Use the Google Search based keyword tool to get an idea of how many searches are being made for your keywords.
Use the auto-complete feature of the standard Google search box to get some ideas that you may not have included. Just type in a portion of your search phrase and see what Google suggests - this is a good indication of what the high volume search phrases are
4. Compile
Export your keyword research results to spreadsheet - you can do this with the Google tool
Sort your spreadsheet by the number of searches to see what are the most popular
5. Remove irrelevant phrases
Delete phrases with a low count phrases - it is not worth the effort to optimise for a phrase with 10 searches per year globally
6. Competitiveness?
Group your keyword phrases into three main categories:

highly competitive
fairly competitive
no competition
7. Choose your keywords
Now you're ready to select the keyword phrases that you want to target based on the data you have compiled about the volume of searches, the relevance to your business and the competitiveness!
See more related articles on the SEO fundamentals page.